Dell Venue 11 Pro now available, starts at $499, full Windows 8.1, full HD, 64GB of storage
15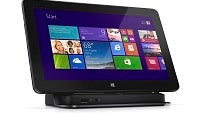 While Dell enters ownership again, we have been told that
smartphones will not be a part of the future
for the famed computer maker. Tablets on the other hand, are definitely part of the portfolio.
Microsoft has had about a month getting the new generation of Surface tablets launched and in the spotlight. The Surface Pro 2 is appealing to those that want or need the ability to run traditional PC applications and until now, it was pretty much the only option in the tablet space.
Dell changed the landscape today with the Venue 11 Pro. Starting at $499, you get a full HD 10.8-inch IPS display, 2GB of memory, 64GB of storage, dual-band Wi-Fi, Bluetooth 4.0, 8MP main camera, 2MP front facing camera and of course, the full version of Windows 8.1. Microsoft Office Home and Student 2013 is also included.
Running the show underneath is a quad-core, 2.4GHz Intel Atom CPU. There are a number of keyboard and dock accessories. A stylus is available with the Venue 11 Pro, but is not part of the standard equipment list.
Those seeking a little more punch with their hardware have the option of upgrading to an Intel i3 dual-core CPU at 1.5GHz, 4GB of memory and improved video processing. Storage is increased to 128GB and with that the price increases to $799. $849 throws in an Intel i5 CPU.
A full sized USB 3.0 plug is on board as is a replaceable battery which is quite a treat for those that want to pack extra juice for their travels. You can order the Venue 11 Pro now and expect shipments to begin in early December.
source:
Dell