December distribution numbers show not even 1% of devices are running Android Oreo
30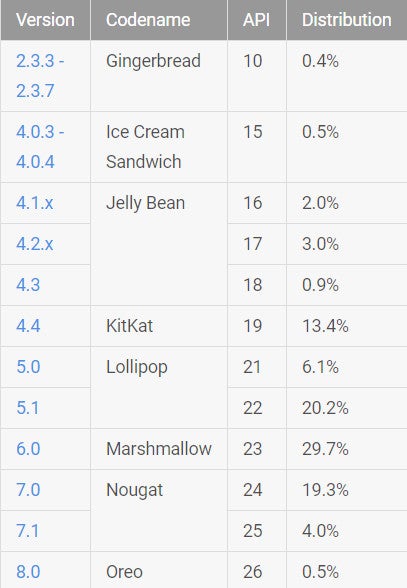 December Android distribution numbers
Even though Apple's iOS 11 spreads slower on compatible devices than any other previous version of the platform,
it's still on 60% of the devices as of this month
. We can't say the same thing about Android Oreo, which struggles to reach a mere 1% even though the OS made its debut quite a while ago.
It might seem a forced analogy to compare how these two completely different platforms are being adopted by customers, but the fact still remains that Android users are kind of left behind in terms of software updates unless they're buying a Google-made device.
The most recent distribution numbers published by Google reveal the situation is gloomy as far as Android Oreo adoption goes. If you don't remember, last month Google confirmed
only 0.3% of the devices
that visited the Play Store in early November were running Android Oreo.
For the month of December, Android Oreo shows a minimal increase to just 0.5%. We doubt the situation will change drastically next month, but we should see real improvements from March or April.
You can find the rest the numbers published by Google today below. It appears that Android Marshmallow continues to be the most used Android version with around 30%, but Lollipop is not far behind with 26%.
Android Gingerbread - 0.4%
Android Ice Cream Sandwich – 0.5%
Android Jelly Bean – 5.9%
Android Kit Kat – 13.4%
Android Lollipop – 26.3%
Android Marshmallow – 29.7%
Android Nougat – 23.3%
Android Oreo – 0.5%
According to Google, the numbers you're seeing above are compiled from all the Android devices that have visited its Play Store during a seven-day period ending December 11th.
Recommended Stories