Deal: rent a movie for just $0.99 on Google Play
0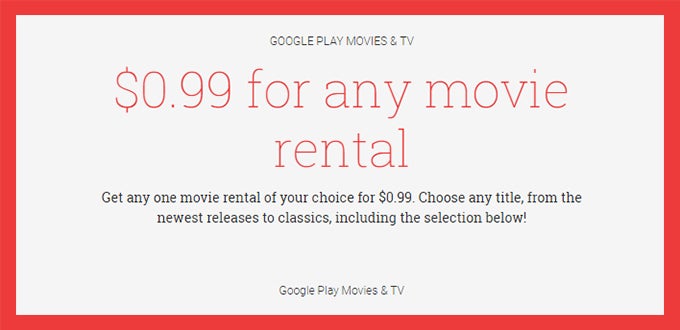 Google Play is currently running a sweet promotion that's likely to please movie fans! The new movie rental deal lets you rent one of a hundred flicks available for just $0.99 and is good through July 7.
The offer is limited to one rental per user and is eligible in certain regions only. The United States, Canada, and the UK are among the regions where the new movie rental deal is available, but even if you're currently based in on of these locations, there's still a chance that you may not be able to take advantage of the deal. Google says that the offer is available only to specific users, based on their purchase history, whatever this means.
There's a bunch of caveats surrounding this deal, no two ways about it, but if you're somehow eligible, $0.99 is a very enticing price to rent a good flick. Too see whether today is your lucky day, follow the source link below.
Your discount will be added to the "Rewards" section of your account and you'll be able to watch the movie on all supported devices you own, including offline.