Deal: refurbished Samsung Galaxy S7 can be snapped up for under $500
16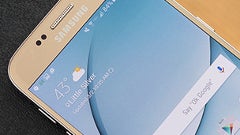 The Samsung Galaxy S smartphone series is always the most sought after in the Android space. Though
HTC recently threw down the gauntlet
with
an impressive flagship of its own
, there's no question that the latest
Galaxy S7
is the handset to beat so far this year. While millions of eager early adopters have already put their money down on the S7, the high price tag will have deterred many who otherwise might have considered its acquisition. If you're one of those folks who'd like an S7 but don't want to pay S7 money, you can snag yourself a refurbished model on eBay for just $499.99.
Even at just under $500, the Galaxy S7 is still an expensive little box, though given the $699 retail price at launch, it's nonetheless a decent saving. There are
plenty of affordable (though not cheap)
devices out there already, which can be purchased brand new for considerably less than a refurb'd Galaxy S7. Yet, if you'd like the street credibility that comes with the territory of owning a device like the Galaxy S7, then eBay store
yapper_wireless
has your back.
As you'll probably already know, the Galaxy S7 is packed to the rafters with high-end tech, though it's not the power alone that renders it a sure-fire winner. As discussed in
our review of the device
, Samsung has done all of the simple things well, and even though the S6 was a tough handset to improve upon, the S7 and
S7 edge
are both comfortably the Korean firm's best work.
With the refurbished model, you still get ten months' worth of Samsung warranty, so should anything break down, you are covered until next February.
If you would like to pick up the almost-new Galaxy S7 at this very agreeable price, you can do so by hitting the source link.