Deal: iPhone 7/8 Smart Battery case (white) is now $50 off, grab one for $49
9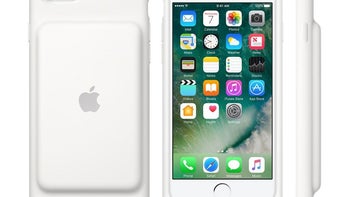 Product
Location
Item Condition
Current Price
Offer Expires
iPhone 7/8 Smart Battery Case (White)

B&H Photo Video

New

$49 ($99.00);




$50/49% off


15 hours
If you have a 4.7-inch iPhone in need of some extra protection and power, we have good news for you! The official Apple iPhone 7 Smart Battery case is now on sale at B&H! The official Apple store has the case listed for $99, but you can now snatch the accessory at 49% off.
This case has been made specifically for the iPhone 7, but it can also be used on the iPhone 8 as the two devices have nearly identical measurements. On the inside, there's a soft microfiber lining that helps with the protection of your iPhone. Meanwhile, the outside is made of silicone.
There's a rather unsightly hump at the back which might deter some users, but it's there for good reason. It hosts a 2,365mAh power cell, which translates to quite a lot of uptime for the iPhone. For comparison, the built-in battery of the iPhone 7 has a capacity of 1,960mAh, while that of the iPhone 8 stands at 1,821mAh. This essentially means that the case can fully charge your phone from 0 to 100% and have some juice to spare.
If you're interested in this deal, the above link will lead you to B&H' listing. Act fast, as there are only 15 hours left (at the time of writing) until the deal ends.