Deal: get the 2nd-gen Motorola Moto X at $242.99 from Best Buy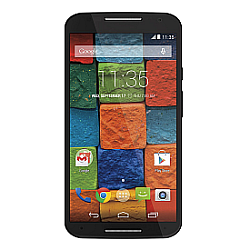 Since the current-generation
Motorola Moto X Pure Edition
has been around for a few months now, its predecessor is now starting to be offered at discounted prices. Usually, the
2nd-gen Motorola Moto X
goes for about $299 at various retailers, but it turns out that Best Buy is only asking $242.99 for the same device.
As this is a clearance sale, you might want to hurry if the deal tempts you.
When it launched back in September 2014, the 2nd-gen Moto X was an aggressively priced flagship smartphone. As months passed, the Moto X was outshined by newer high-end handsets, including here Motorola's own Moto X Pure Edition. At $242.99 unlocked and with US warranty, however, the 2014 version of the Moto X is one Android 6.0 Marshmallow-running you may want to consider.
The 2014 Moto X comes with a 5.2-inch display running a resolution of 1080 by 1920 pixels. Those who find that the 5.7-inch display on the Moto X Pure is too large, then the comparatively smaller Moto X might work wonders for you.
On the inside beats the heart of a Qualcomm Snapdragon 801 chipset, a chip that also powered other flagship smartphones of 2014 such as the US version of the Samsung Galaxy S5, the HTC One M8, or the Sony Xperia Z3. Paired with 2GB of RAM and 16GB of expandable internal storage, the Snapdragon 801 still offers pretty good performance levels.
The 2nd-gen Moto X may have its strong points, but it's not a flawless device. For instance, the 2300mAh battery offers sub-par battery life, the 13MP primary camera has difficulties in low light situations, and display has a low maximum brightness. For an in-depth look at the handset, head on over to our full
2nd-gen Moto X review
.
Best Buy has the black version of the Moto X with 16GB of internal storage on sale at $242.99. The white version of the same handset will set you back $254.99.
What do you guys think? Is the 2nd-gen Moto X worth $242.99, or would you rather spend $399 on the current-gen Moto X Pure Edition?