Deal: AT&T offers free Apple TV 4K when you sign-up for its DirecTV NOW service
4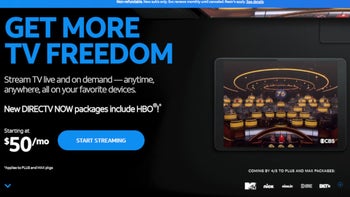 Great news for Apple fans who don't yet own an
Apple TV 4K
, as AT&T now offers one for free to everyone who joins its
DirecTV NOW service
. You don't even have to sign-up for a year in advance, which makes it an even better deal if you're in the market for an Apple TV.
Now, here is what you need to know before you take
AT&T's deal
. Firstly, the promotion is only available to those who've never been subscribed to AT&T's DirecTV NOW. Secondly, you'll have to pay for the first four months of service in advance, and at full price, we might add.
The carrier also mentions that the promotion requires a minimum $50/month subscription before taxes, but AT&T DirecTV NOW plans start at $50/month anyway. If you plan to sign-up to AT&T's service online, you should allow 1-2 weeks for delivery. Keep in mind that the deal is limited to 1 per DirecTV NOW account and that you can't combine it with other offers.
AT&T's DirecTV NOW Plus requires a $50/month subscription and offers more than 40 channels, including HBO. However, for $70/month, the AT&T DirecTV NOW Max plan offers 50+ channels and even more sports coverage, along with HBO and Cinemax.
Last but not least, the
DirecTV NOW deal
is non-refundable and it's available until April 30, so plenty of time to decide whether or not it's worth your money.