Deal alert: 128GB Microsoft Surface Pro for $499
29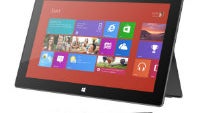 Some have been put off of Windows tablets because of the price, but we've got a new deal for you that could help you get past that issue. Even now, with the Microsoft Surface Pro 2 out on the market, the original Surface Pro could still cost you almost $900 at some retailers, but today has started a pretty impressive sale on the device.
Now, you can get yourself a brand new Surface Pro for just $499, which is technically a $400 reduction (although you could have also found the tablet for somewhere around $600, but this is still a good deal). At first the deal was only at Best Buy, but it looks like the official Microsoft Store is also offering the same deal.
The original Surface Pro doesn't have quite the battery life of the new version, because it doesn't have an Intel Haswell chip; and, it doesn't have the adjustable kickstand. But, it still has the standard kickstand, the Wacom stylus, 128GB of storage, 4GB of RAM, the 10.6-inch 1080p widescreen display, and of course it is running full Windows 8.
If you're in the market for a Windows tablet, this could be a pretty solid option. Any takers out there?