Deal: This touchscreen Lenovo Chromebook is on sale for just $180 (normally $300)
15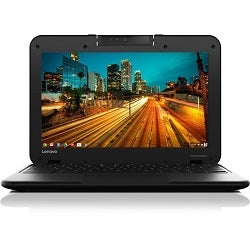 In the world of Chromebooks, your options can often seem to be a bit bland. There are plenty of different makes and models to choose from, but not many of them truly stand out among the rest. However, one Chromebook that really does differentiate itself from the majority of the other ones currently out there is the Lenovo Chromebook N22.
Unlike most other Chromebooks that are available, the N22 features a rugged and durable design with a water-resistant keyboard, sealed touchpad, anti-peel keys, and reinforced hinges and ports. In addition to the beefy design, the N22 also has has some rather nice specs that it's bringing to the table. An 11.6-inch touchscreen with a resolution of 1366 x 768 is present here, along with a rotating camera, 16GB of internal storage, 4GB of RAM, and an advertised 10 hours of use on a single charge. The N22 is also outfitted to run Android apps once Google officially releases this feature to the masses, so application support for the device will grow tremendously very soon.
If you're interested in what Lenovo's Chromebook has to offer, Amazon is currently selling it for just $180. The N22 normally retails for $300, so you're looking at a hefty savings of $120 (or 40-percent). This deal is likely to go rather quickly, so be sure to click on the source link below if you want to grab one of these for yourself.