Deal: Snag a high-performance 128 GB microSD card for $70 on Amazon
21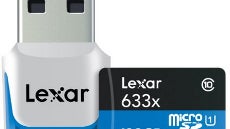 Running out of storage is perhaps second on the list of mobile device owners' pet peeves behind, of course, a dead battery. Most of us have been in that position where, upon trying to install an app or download a video, the dreaded pop-up kindly informs us that the system is out of free space. Although manufacturers are increasingly trying to stifle the idea of expandable memory, microSD slots are still fairly prevalent, offering invaluable respite at a time when millions of apps are available to download. If you're in the market for a microSD card for your device, there's a limited-time deal on Amazon pushing a 128-gig card for just $71.99.
That's an incredibly low price, and if you like to hoard music, videos and apps, may be an investment worth making. The Lexar MicroSDXC 633X is a high performer despite the price, boasting up to 95 MB/s read speed. It comes with a USB 3.0 adapter as well, so you can readily hook it up to your computer or any other device lacking card-reading facilities.
If you aren't looking for so much real estate, Lexar has a number of other storage options currently on offer. The 64 GB version is down from $94.99 to $31.99, the 32 GB edition has dropped from $50.99 to $23.95, and the 16 GB variant has been reduced from $33.99 to $17.95. With a saving of $88 over the usual price, though, that 128 GB offering looks very tempting indeed.
At the time of writing, the deal has just over 15 hours left to go, so if you want to get involved, act quickly. Needless to say, these could well sell out before the allotted discount window has closed, so grab yourself a real bargain at the source before somebody else does.