Deal: PNY's 128 GB Class 10 microSD card is going for just $29.99
16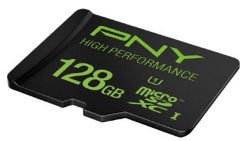 The conveyor belt of shiny new smartphones is seemingly never-ending. Even with the
Samsung Galaxy S7
,
S7 edge
and
LG G5
having been released over the past few weeks, the
Huawei P9
will soon be here, followed closely by
HTC's new flagship
. Though most of these high-end devices ship with ample native storage, the miracle of the microSD slot means that often, a user can add more real estate relatively cheaply. If you're a digital hoarder and would sooner enable your habit than have to delete stuff, PNY's 128-gig microSD is available on Amazon for just $29.99.
It's the cheapest we've seen so far for a microSD card of this capacity. The Class 10, UHS-1 SDXC card will afford your smartphone or tablet a lot more breathing space, though it does not ship with a full-size SD adapter for use with, say, a DLSR camera.
The revised price represents a humongous $70 saving on the list price. There doesn't appear to be an expiry date or time on the deal, though these offers don't tend to stick around for too long.
If you'd like to snag yourself a 128 GB microSD card on the cheap, you can navigate through to the Amazon page via the source.