Dark Mode is coming to the Facebook Android app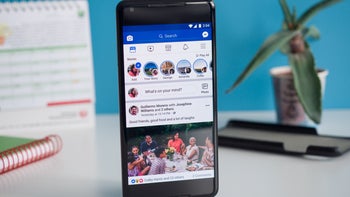 Predominantly white interfaces have been the norm on both mobile and desktop devices for years now. There's a good reason for this – they can look extremely clean, unobtrusive, and minimalistic, all the while giving ample room for vibrant colors to shine when and where they're needed. But this constant, bright, white light can get tiresome for the eyes late at night. That's why developers are increasingly adopting Dark Mode in their apps.
The next big Android app to get treated to Dark Mode is the Facebook app. The company already delivered a dark theme in Messenger earlier this year, so it only makes sense to do the same for the main Facebook app. Heck, we're surprised it's taken them this long, considering that the feature was promised about a year ago.
Development of Dark Mode for the Android Facebook app is well underway, but the public release could be a couple of months away. Proof of the existence of Dark Mode was discovered by researcher
Jane Manchun Wong
(via
Android Police
) who has previously been reliable in leaking upcoming features in the Facebook and Messenger apps.
"I came across this unreleased Dark Mode in Facebook's mobile app for Android by looking into the code underneath, which indicates Facebook has recently started implementing the long-awaited Dark Mode into their mobile app,"
says Jane.
"This Dark Mode appears to be in an early stage of development, understandably. For now, only certain parts of the app has been reworked to support the Dark Mode. For example, dark text displaying on a dark background, vice versa."
As is the case with many new Facebook features, Dark Mode is likely going to go through internal testing before it sees a soft roll out to only a fraction of Facebook's user base. Once all the wrinkles has been ironed out, it will be released globally.