Damn you, autocorrect! School gets locked down after teen texts "gunman" instead of "gunna"
36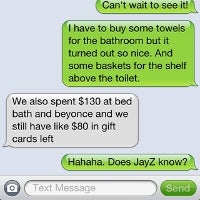 If you think "Bowling for Columbine" and all the school violence reports haven't made the country paranoid, just wait to hear this story. Gainesville, GA, saw its West Hall middle and high schools get locked down yesterday, after a text message sent to the wrong person read "
Gunman be at West Hall this afternoon
".
The culprit was not some wacko with a firearm, but rather the good ol' autocorrect, whose mishaps have already received a cult following and dedicated websites.
Actually the text was sent by a student at Lanier Technical College, who meant to say "
Gunna be at West Hall this afternooon
", but the robocorrection kicked in, and on top of that it was sent to another number than the one it was intended for.
Well, you can't blame the Gainesville authorities or the recipient who reported the text message to them that they shut down the schools, given the situation in Chardon High School in Ohio a few days ago, but you surely can still be amused with all the comotion that autocorrect often brings. And one more lesson - every English teacher will tell you that "gunna" is spelled "gonna", what was autocorrect thinking?