DROID DOES site updated with the Motorola DROID BIONIC - Contest coming soon
18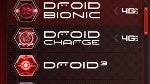 As the anticipated release date of the
Motorola DROID BIONIC
draws closer (Sept 8th), the
DROID DOES
web site has now been updated with some more "teasers" about the device.
The first thing you will notice is a video in the center of the screen, which shows people running around in an Augmented Reality hunt looking for the DROID BIONIC and other prizes. The video indicates there are
768 chances to win
- but the details about "winning" are not disclosed yet. But that didn't keep people over at Droid-Life from (hacking) it to see that the prizes will include
16 DROID BIONICS, 4 HDTVs, 4 Laptops, 4 Tablets, and 4 Quadcopters
- all of which you can see in the hands of the people in the video.
There are also codes on the four corners of the page that are to be entered by the sites BoingBoing, BoyGenius, Joystiq, and Android Central. As of now, it appears that only BoyGenius and Joystiq have entered their codes, as it's sowing only 52% loaded, and the rest would need to be activated by 12-noon tomorrow (Sept 1st), according to the countdown timer on the bottom right. Over at BoyGenius, they've received a special case with a one of a kind "machine" inside, though we're not sure what it's use is for.
So it appears that Verizon is going all out on the Motorola DROID BIONIC marketing, with some nice prizes that will be worth the hunt. It would just be nice if they'd "'officially" announce the device and the pricing, though it's expected to be $299.99 with contract.
source:
DROID DOES
***UPDATE***
There is now an app in the Android Market called
DROID BIONIC ARena
that will be used for the augmented reality scavenger hut. We installed it on our HTC ThunderBolt and the first thing you have to do is BUILD BIONIC by moving the phone around and grabbing 4 BIONIC MACHINES. Then choose HUNT from the main screen (not activated yet) and select a prize to track. The rules say that you can plan up to 48 times per day for 4 days. Prizes include a Motorola XOOM Tablet, Video Streaming Quadocopter, 4GB Intel Laptop with 4G LTE, 40" LED HDTV, and of course the Motorola DROID BIONIC.