CyanogenMod-based OnePlus One now promoted by Qualcomm
12
Although lots and lots of smartphones are using Qualcomm SoCs nowadays, the famous chipmaker isn't promoting each and every one of them. At least not on Twitter, where, until now, we've seen Qualcomm promoting handsets like
Sony's Xperia Z2
,
Samsung's Galaxy S5
, or
HTC's One M8
. In any case, devices from well-known brands.
Today, Qualcomm also mentioned the upcoming
OnePlus One
on Twitter. It was a retweet, actually, which informed the world that the OnePlus One will feature a Snapdragon 801 processor (we
already knew that
). This means a lot for OnePlus - not just because Qualcomm has more than 100,000 followers on Twitter, but also because the chipmaker seemingly believes that the CyanogenMod-based One smartphone is worth our attention.
Of course,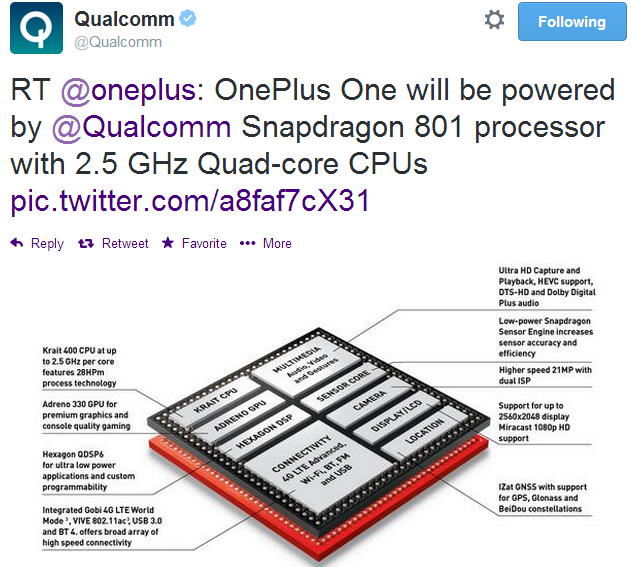 we haven't seen the OnePlus One yet, but the handset will finally be announced on April 23. Shortly after that, it should be available internationally for no more than $400 (or €350 for European customers).
Apart from coming with a quad-core Snapdragon 801 processor, the new handset will feature a 5.5-inch 1080p display, 13MP Sony-made rear camera, 3GB of RAM, and a 3,100 mAh battery.
source:
Qualcomm
(Twitter)