"Cut the Rope" dev ZeptoLab unveils next game, Pudding Monsters
9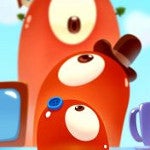 If you're like us,
Cut the Rope
and
Cut the Rope: Experiments
are two of the first games you install on any mobile device you get, and there's good news today, because developer ZeptoLab is announcing its followup game called
Pudding Monsters
. The news is coming out of the LeWeb conference in Paris, France.
Cut the Rope
has not only been one of the most addictive games for mobile, but it's been a huge success getting over 250 million downloads, and supposedly still has 50 million active players on iOS and Android. As with most followup games, it's hard to expect
Pudding Monsters
to be as successful, but we're still pretty excited.
Pudding Monsters
isn't as easy to explain as CtR, which is just "feed OmNom". The idea of Pudding Monsters is that it is a puzzle game where you need to save your pudding monster friend from the fridge owner. Swiping sticks monsters together, eventually becoming the Ultra Mega Monster. And, monsters will have different special powers, like leaving trails of goo to add "unique twists and turns in gameplay".
Of course, without video or actually playing the game, it's kind of hard to tell exactly what that all means. But, we'll be able to find out soon enough as the game is set for simultaneous release on iOS and Android on December 20th.