Customer satisfaction survey shows Samsung topping Apple in the US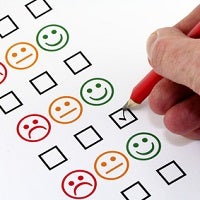 The University of Michigan has some new numbers for the American Customer Satisfaction Index, and in a not-so-subtle twist of fate, Samsung has leapt over Apple in the rankings.
Samsung saw a big bump in scoring over previous years, while Apple continued an ever-so-slight decline, despite the release of the new, and very favorably reviewed,
iPhone 6
and
iPhone 6 Plus
. What makes this development even more poignant is the fact that Samsung probably will not look on 2014 as a banner year sales-wise.
Customer satisfaction with cellphones in general is up, including brands, and former brands like Nokia, LG, and HTC. Motorola is holding steady, and BlackBerry saw a big positive boost in satisfaction, up over 7% from 2013.
Samsung's overall score climbed from 76 to 81, while Apple dipped from 81 to 79. How might one attribute this assessment? Samsung may not have shot for the moon with the
Galaxy S5
(and
sales estimates seem to support
that), but it produced a winner with the
Galaxy Note 4
. Plus the improved building materials have likely offered a better overall perception.
Apple was already producing well-built, nicely executed products. However, when one has established such an air of "perfection," anything so much that looks like a bug-stain is going to sour the mood. The new iPhones are excellent devices, but iOS 8 looks the same as iOS 3 (or 2, or 1). The rollout of iOS 8 was
markedly not so smooth either
. All of these were fairly minor in the grand scheme, with sales of the iPhone setting records. However, a dusting of imperfection will lessen the luster.
Another part of the American Customer Satisfaction Index showed Verizon at the top of the major carriers, but behind "all others," which has been par for the course of recent years. T-Mobile stands an inch above AT&T and Sprint to round things up.
In case you were wondering, the two most despised companies are Comcast and Time Warner in the subscription TV service segment. AT&T's U-Verse and
its merger target, DirecTV
, share the top spot. Wanna-be wireless carrier, Dish Network, holds third behind Verizon's FiOS, but as you might expect, that sector of business is seeing a decline in customer satisfaction.
source:
ACSI
via
BGR