Samsung Galaxy S5 sales said to fall behind iPhone 5s and last year's S4
99+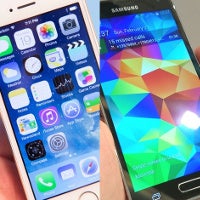 The
Galaxy S5
, the flagship staple of Samsung's 2014 smartphone strategy, is underperforming with sales of just 5 million units in May, less than the 7 million Apple has allegedly sold of its
iPhone 5s
in the same period, according to latest data by Counterpoint.
What makes this worse is that the iPhone 5s is an eight-month-old device, while the Galaxy S5 is a new phone that was on sale for just its second full month in May. The S5 was expected to ride high on the hype of its novelty, but apparently, the sales results are not there. Moreover, even last year's S4 has allegedly managed to sell in 7 million units on the second full month of sales, a clear indication that S5 sales are behind the S4.
One of the big problems for the company is that it has watered down its Galaxy brand
With surprisingly underwhelming financial guidance for
operating profit of 7.2 trillion won ($6.96 billion) for the April-June quarter
, Samsung analysts have all quickly dropped their forecasts for the company's performance this year. According to researchers by Counterpoint, one of the big problems for the company is that it has watered down its Galaxy brand by releasing cheap Galaxy devices, while Apple keeps its iPhone brand reputation high by only selling premium devices.
"We will strengthen our product competitiveness by reinforcing our premium brand reputation, powerful product line-up, and cutting-edge technology,"
Samsung said in an immediate response. At the same time, though, Samsung did not reveal any sales number, nor did it comment on how true Counterpoint's estimated sales data is. Counterpoint, on its part, says it bases its estimate on data from 35 countries, representing 90% of the global phone market.
One such attempt to strengthen Samsung's premium brand recognition might be the rumored Galaxy F device, a smartphone made of metal and boasting a premium design and top notch silicon.