Custom Moto Maker orders now available in Germany
2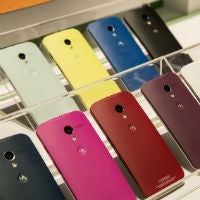 The Moto X has slowly made its way into various markets after being initially released in the US last August, but the Moto Maker customization options haven't really made much headway. We expected more Moto Maker support internationally before the Moto X+1 launch, but there isn't much time left there. Still, Moto Maker has made it to one European country: Germany. This marks the first country outside of the US to get Moto Maker, and Motorola hasn't really done much marketing for it so far. German customers will have all of the options available, including the wooden backs The customized Moto X will be made for Phone House and cost just 1 euro.
Motorola's new head Rick Osterloh had said
back in February
that Moto Maker would be expanding to Europe and Mexico in Q2. Motorola just barely missed that window with this launch, so it's hard to say when Moto Maker will come to other international regions. It is a bit odd to be ramping up sales of custom Moto X handsets when we're likely less than two months from the Moto X+1 release, but maybe Motorola wanted to give the assembly plants some practice before that. There have been rumors that the X+1 will
add more
customization options, and of course there is also the rumor that the Moto 360 will be made
available with Moto Maker
customizations as well.