Cult Sega Genesis arcade fighter Comix Zone gets dusted off for the iPhone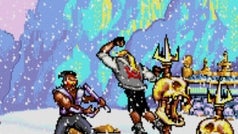 Comix Zone is a cult classic game for the SEGA Genesis console. It pushed the late 80s-era 16-bit hardware to its limits, delivering an incredibly lifelike (at the time) comics brawler experience on top of an epic soundtrack! It's fondly remembered both for its outstanding presentation and notorious difficulty. Simply put, you get beat up and die a lot, no matter how skilled you are with the Genesis' awfully fragile joypad.
In Comix Zone, you get to play as Sketch Turner, a comic book artist trapped inside his own nightmarish world by Mortus, the evil guy from his stories who's brought to life by lightning striking a panel in his comic book. You must fight your way through a post-apocalyptic landscape and save both the fantasy land and the real world from the manic psychopath.
Like many others before it, Comix Zone gets to live another life on mobile platforms. Simple arcade games with unobtrusive control schemes and graphics that look timeless, thanks to the renaissance of pixel and sprite-based graphics, feel right at home on a smartphone and Comix Zone is no exception.
The game is currently soft-launched in the Philippines and it will take some time before it becomes globally available. It's up for free, though!
Here's the App Store link.
Check out the video below to get a feel for the game if you aren't familiar with it.
source:
Gadget Hacks