Cross-platform Wintermute voice assistant to best Google Now and Siri (video)
6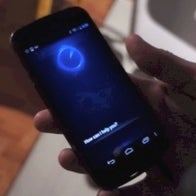 Nuance is the company powering Apple's Siri voice-recognition service, as well as the Swype virtual keyboard, and it has been increasingly vocal lately to make mobile presence of its own with the
Dragon Mobile Assistant
app.
The firm is taking it to the next level as a true cross-platform voice assistant, though, as it demonstrated at CES 2013 the work going into a system called
Wintermute
, that collects info about your dictionary, phrases and preferences, stores it into the cloud, and makes it accessible on any device you are using, be it a computer, tablet, or a phone.
Named after the artificial intelligence butler in William Gibson's novel Neuromance, Wintermute aims to bridge the gap between virtual assistants left by the likes of Siri and Google Voice Search, letting you listen to a song on your computer at home, then get into the car and tell the phone "play the song I was listening to" to pump the beats out of your car stereo. Very neat idea, and we can't wait for the first beta to hit our devices with personality and attitude.