Creative's Sound BlasterAxx Bluetooth speakers are always listening: bring HAL 9000 to reality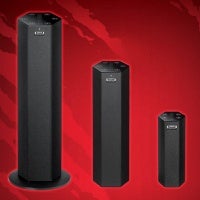 Creative hasn't done much to get noticed in mobile, but its latest series of wireless speakers with the not so creative name
Sound BlasterAxx
, might just change that. Sound BlasterAxx brings three speakers varying in size, but all featuring a hexagonal design and similar functions.
Here is what makes the three models differents:
- Sound BlasterAxx SBX 20, offers Bluetooth streaming, $199
- SBX 10, with BT support, $149
- entry-level SBX8 doesn't feature Bluetooth, works only with USB, $99
The first two speakers work with all smart devices including the iPhone, iPad, Androids and everything else supporting the Bluetooth protocol.
But what's most impressive about the speakers is the fact that they
actually listen to you
. Yes, that sounds like sci-fi, and we're very eager to try this, but you can apparently simply speak out loud and the speaker will pick up your voice and have Siri or Android's Voice Actions kick in with a reply. Think HAL 9000 in reality. That's one feature we've really been waiting for a while, and something that can finally bring a lot of our sci-fi fantasies to life. The possibilities with this seem endless. The feature will work only with the SBX 20 and SBX 10 speakers, of course, as they are the only ones supporting Bluetooth.
Check out the video below and chime in with your comments - are you as excited about this as we are? The fine details about the Sound BlasterAxx can be found at the source below.
y