Could a homebrew LCD privacy hack lead to a new way to make tablet screens?
10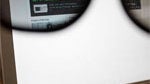 A few days ago the folks over at Hack-a-Day highlighted an article on Instructables that shows you how to hack an old LCD monitor and convert it into a privacy screen. Now the question is, could this be a viable solution for those who need more privacy on their tablets in public situations?
The idea is pretty simple. Basically, inside the LCD screen there is a layer of polarized film that enables us to see what is being generated on the screen. By removing that layer and installing it onto a pair of glasses, the screen always appears white to onlookers, while the person viewing the screen through the glasses can see the actual screen images.
Now, of course, potential spies could manufacture their own glasses and people typically don't jump on the opportunity to wear glasses, as seen in 3D technology advancements. On the other hand, tablets are making their way into more situations where privacy is paramount. For example, as many medical professionals begin using tablets in their practices, wearing a pair of special privacy glasses to give patient's sensitive medical information an extra layer of security seems very reasonable.
No one knows for sure if tablet manufacturers would consider adding a physical privacy guard to their displays, but, at the very least, if you're looking for a fun project and have an old LCD lying around, check out Instructables to make your own privacy screen.
source:
Instructables
via
Hack-a-Day