Is Vero, a 'truly social' network, worth paying for?
6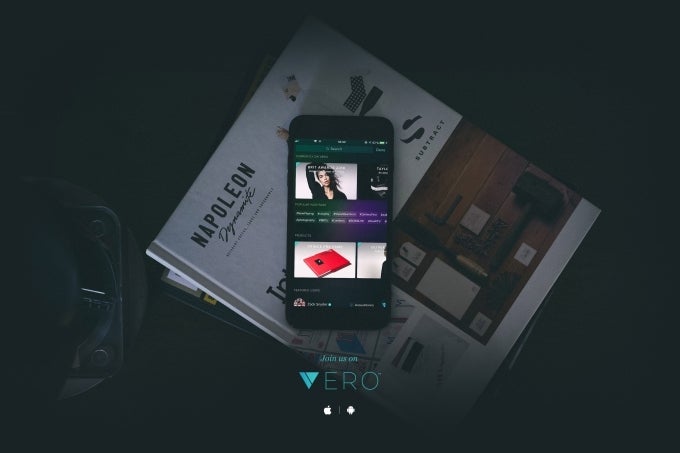 Vero wants to be the social media network of the future. Here, your content takes center stage, your feed is uncluttered by pesky ads, and your information is kept as private as you want. Vero aims to be 'Truly Social' by giving us back control over our data and the social experience. This is supposed to be the ideal of social media experiences by allowing us to share the things that connect us most deeply to friends and followers. Vero's CEO Ayman Hariri has set out on a noble journey to give us a more authentic online social experience, but is it worth paying a subscription?
How does Vero make money?
Vero aims to make its money in two ways: subscriptions and merchants.
Vero is still in its infancy and only has a few million users. While only the first million users were meant to have free lifetime access, the company has extended that deadline until sometime 'soon'. At the time of publishing, you are still able to sign up and get free lifetime access. But the question remains: Is it worth paying for a subscription?
If Vero is a community that new users will soon have to pay for, there has to be something that they offer which other 'free' social media sites like Facebook do not offer. To start with the basics, Vero is currently available on both Android and iOS smartphones with no web client. When signing up, they require your phone number, name, and email address.
You might be wondering why Vero would require your phone number. They say that it is for the purposes of authentication on multiple phones, to help friends find each other, and for users who want to Connect with their friends without having Connect Requests enabled.
Who might those people be? The first subset of people that comes to mind are celebrities and influencers. And Vero has made it a priority to attract the likes of Charli XCX and others to their platform. One might also think that by attracting big names, Vero could turn into another place for them to seek publicity. You would be right again.
Just like Apple Music aimed to connect us to our favorite artists, so, it seems, is Vero. But just like Apple Music, where the Connect feature turned into a place for artists to mostly promote new work, so too does Vero. To best showcase this, consider that Vero allows transactions through the app itself—stuff like photography, clothes, magazines, etc. This is the second way that Vero makes money. Each time a merchant makes a sale through the app, Vero takes a transaction fee.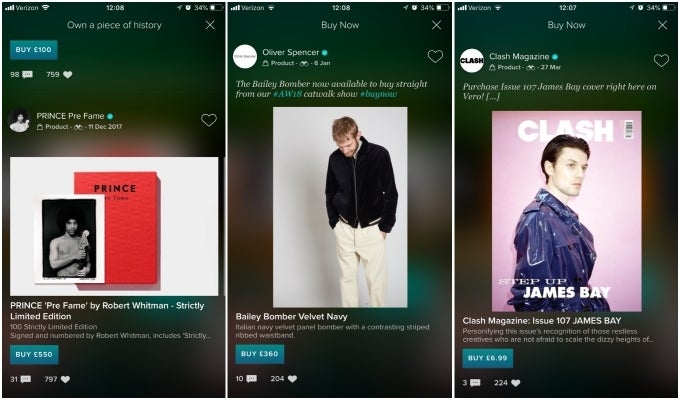 Vero allows merchants to sell products through the app
Vero's social experience
Then what does Vero offer to the rest of us? Well, there are six kinds of things that you can post: photos, music, movies, links, books, and places. When you post something like a piece of music, you will have the option to Recommend it, or indicate that it is what you are listening to at the moment. Vero also addresses the crowded social media space by allowing us to 'tell the world' by sharing our posts to Facebook and Twitter. For people who see our music post, they have the ability to listen to a preview of the song and even purchase it via Apple Music. Books can also be purchased via iBooks. On Android, nothing changes, so there is a slight loss of quality in experience for those not invested in the Apple ecosystem. Nonetheless, this manner of posting is actually quite enjoyable.
The interface of the app makes content look inviting and fresh. It is a nice-looking app. You will spend most of your time presumably in your Feed, which Vero has said they do not curate in any way. Here you will see content from your friends as well as people you follow. You can double tap a picture to 'like' it, and you can leave comments. Chat is also available, and the Search tab gives you some ways to connect with more content. From here, you can explore popular hashtags or check out the Featured Users. This is also where you can see a selection of Products for sale.
Vero aims to set itself apart from the others in a few other ways. When posting, you have the option to limit the visibility of your posts to four levels of privacy: Close Friends, Friends, Acquaintances, and Followers. Followers are distinguished from Friends which makes it an interesting experience especially when there is a large chance that none of your friends are using the app.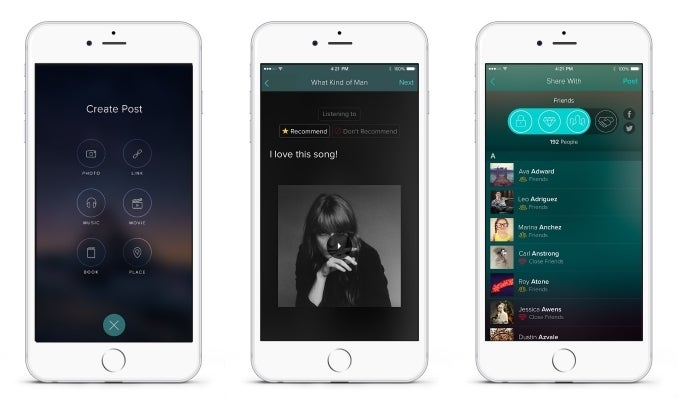 Making a post is intuitive and feels good
Another way is via Usage Data. It is a new feature that allows you to view how long you have been using the app. Vero asks you to opt-in to the micro-service as it requires additional data collection. Their noble goal with Usage Data is to address 'digital addiction'. As they are (or will be) a subscription-based service, their aim is not to increase the amount of time we spend in their app, but to make the quality of our experience better. The better it is, the more people may be willing to spend money to be part of the network.
To us, it is fairly clear that Vero is trying to be different by being transparent about their data practices and by giving us granular controls over how our data is used. But will it be enough to make Vero take off? Only time will tell. The app is still free, so the number of users can grow quite fast, but once the subscription fee sets in for new users, growth may slow substantially, and Vero will have to rely more heavily on the transaction fees it charges merchants.
Right now, all that ought to be said is that Vero is trying to pursue a mission that appears to be feeding on the growing public mistrust of tech titans like Facebook. They have created their vision of what a social network ought to be, and only time will tell whether it is successful or not. It is important to note that Vero allows its users to share their posts to Facebook and Twitter. This seems to indicate that Vero knows they are probably not going to be the only social network we are part of–they just want to be the best network.
In the meantime, I will keep using it. Will you? We are looking forward to hearing your opinions of Vero and its mission in the comments below.