Buy your Google Home Mini smart speaker in bulk from Costco and save $15 on three
1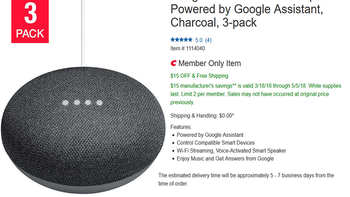 Costco is a membership warehouse club where items are purchased in bulk at a discount. And that explains why you can purchase three Google Home Mini smart speakers from Costco for $99.99, a $15 or 15% savings from Costco's usual price of $114.99. The price, which is available to Costco members only, works out to $33.33 for each unit compared to the current $49 price tag that each Google Home Mini carries at the Google Store.
The deal expires on May 5th, and if you order from Costco's online store, shipping will be free. Color options for the three-pack are charcoal or chalk. With the
Google Assistant
virtual helper included on the smart speaker, you can stream music, hear the latest news, get the latest weather, find out if your favorite team continues to tank, find out if the stock you own continues to tank, control smart appliances in your home, find your phone, set alarms and timers, check your schedule for the day and much, much more. There are over 1 million actions that Google Assistant can do.
So why buy three Home Mini smart speakers? Well, you might want to have multiple units to place in different rooms in your house. And if your kids have their own rooms, each one is going to want their very own Google Home Mini. You do need to know that there is a limit of two three-packs for Costco members, so the maximum purchase would be for six units at a cost of $199.98.
So now you can buy those 144 boxes of Lucky Charms, the ten-gallon jugs of milk, five cows worth of sirloin steak and a three-pack of smart speakers from Costco. If interested, click on the appropriate sourcelink below.
source: Costco (
charcoal
), (
chalk
)