Cost of new Apple Store in Chicago goes from $62 million to $26.9 million in one week
27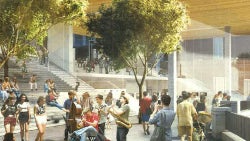 Back in October, the cost to construct Apple's new flagship Apple Store in Chicago was estimated at $62 million. Dubbed the "glass temple" thanks to its look, the 20,000 square foot structure will be made of glass, steel and wood when completed. To put the price in perspective, the well known Union Square Apple Store in San Francisco cost just one-third that amount to build.
According to the Chicago Tribune's Wednesday edition, Apple filed revised construction costs for the store on Lake Michigan that took the estimated price sharply lower. Just one week after the $62 million figure was bandied about, new filings indicated that the store was estimated to cost $26.9 million. These figures come directly from the development company that filed the paperwork.
The new store will open in October 2017, and Apple will migrate from its current location at 679 N. Michigan. Zeller Realty Group owns the property and announced plans to build the new store in November 2015. The store is being counted on to increase foot traffic for all stores in the nearby shopping area.
Apple better load up on the Windex. The new store will feature plenty of glass including some panels that will be visible to those on the Riverwalk. Check out one picture that shows the continuing construction being done on the facility, and a number of renderings that show what the facility will look like. We no doubt will be hearing much more about this location as we get closer to the launch of the new Apple Store.
One thing that we haven't heard from Apple is how the cost of the project could be reduced by $35.1 million in one week. Hopefully, Apple will explain how it was able to achieve this amazing cost-cutting ability.
source:
ChicagoTribune
via
AppleInsider