Cortana will now help you define words
36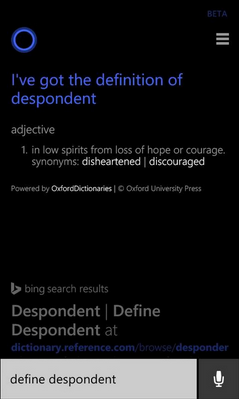 Cortana can now provide definitions
Are you a Windows Phone 8.1 user in a region that supports Microsoft's Cortana? The personal assistant now has a new task that she can perform, which no doubt will be added to her resume. Cortana will now define a word for you. All you need to do is say "Define (say the word)" and Cortana will come right back with the definition.
We should point out that if you are an Android or iOS user, you might not be terribly impressed since both Siri and Google Now both already handle definitions. By the way, in case you were wondering, Cortana gets the definitions she repeats from the Oxford Dictionary, so you should feel confident with her responses.
While Cortana should be able to define any real word, there are some Windows Phone 8.1 users who have Cortana, but not the capability to handle definitions yet. Do you know what the word
disappointed
means?
source:
Neowin
via
WMPoweruser