Corning states Gorilla Glass 2 will have same impact resistance with 20% thinner layer
4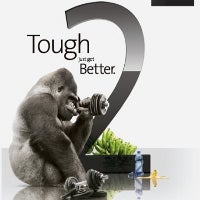 Corning, which recently announced its
Gorilla Glass 2
innovation in the world of thin and tough glass for mobile devices, detailed some more info about the upcoming bulletproof front of your next-gen smartphone or tablet.
First and foremost, Gorilla Glass 2 will allow your mobile device screen to be subjected to the same level of impact in terms of tapping, pounding, dropping or scratching it as the current crop of smartphones and tablets, but
coming from a 20% thinner layer
, meaning an even slimmer devices are on the horizon. The
Huawei Ascend P1 S
engineers might be a bit uneasy at the moment, knowing that an even thinner device could be made possible with Gorilla Glass 2.
The thin game is getting a bit pointless at Huawei's 0.26" (6.68mm), but even if manufacturers don't go for "the thinnest" title with their next devices using Corning's Gorilla Glass 2, that still means they will have 20% more space - to place a thicker battery, for example - with the same level of screen protection we have now.
Moreover, the second iteration of tough glass from Corning allows for
brighter images
, since it's thinner (duh!), and enhanced touch sensitivity. For some reason Corning specifically mentions this greater touch sensitivity will work particularly well with the upcoming barrage of Windows 8 devices this year, so this is something to keep an eye on for more details.