Cornice unveils ultra-thin 8GB and 10GB micro hard drives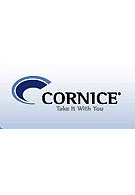 Cornice Inc. announced that it has expanded its lineup of products by adding ultra thin, high-capacity series of micro hard drives. The new series, called the Dragon are specifically designed for phones and other mobile devices. The Cornice Dragon series micro hard drives are 40% smaller than the first generation one inch drives, which makes them the smallest and thinnest drives available on the market. On the other hand, being available in 8- and 10-gigabytes, they offer significantly more storage capacity and at the same time use much less power (about half of the power used by previous models). The Dragon hard drives also feature better shock and drop protection. They are expected to be available to manufacturers in the first quarter of 2006. Cornice's 3 GB drive is used by Samsung in their SGH-i300 smartphone. The 3GB HDD enables the phone to store up to 1,000 music files.
Source: Cornice Inc.