Copy and paste and turn-by-turn navigation among other features for Windows Phone 7 rumoured to come in January
4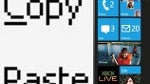 According to the rumour, a Microsoft employee visited an AT&T store to get some much-needed feedback for the new Windows Phone 7 mobile OS. They chatted for a while and a few interesting news popped up, like the copy and paste function and turn-by-turn navigation coming in January 2011.
This rumour is consistent with what we have heard before about copy and paste – that this function is
coming in early 2011
– and it sounds logical that Microsoft is working on turn-by-turn navigation for Windows Phone 7, since that option is sorely missed by most people. If this rumour is to be believed, then a few cool ways to add, edit and customize ringtones are coming as well.
Of course, there is no proof whatsoever that the above story ever happened, but the fact is that these functions are indeed badly needed. When January comes we will know for sure, but we seriously hope that this rumour will prove to be true and all owners of Windows Phone 7 handsets will be able to enjoy these new features in the first month of 2011.
source:
WMPoweruser
Recommended Stories