Controversial Peeple app launches in North America today for iOS users only
16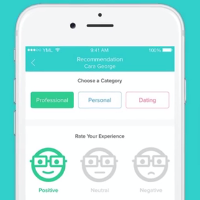 Last October, when word leaked about an app that ranks people called Peeple, the news was met with utter disdain. The
Washington Post
called it "the terrifying 'Yelp for people'." The original version of the app allowed a user to add a person to his/her Peeple database and rank him or her by using a star system, similar to the one that movie critics use to rate films. It sounded like a digital version of those 'burn books' kept by high school girls with ratings for all of the guys.
The app is launching today, available only from the Apple App Store to iOS users in North America. And changes have been made. Instead of rating people like a restaurant, stars have been replaced with the total number of recommendations that a person receives. That gives the app a more positive leaning. And while the original concept had people getting rated even without giving consent to be judged on the site, that consent now must be received before a person can be listed on Peeple.
The app's co-founder Julia Cordray says that the initial media response was overblown. Calling Peeple a "positivity app for positive people," she claims that the app was misrepresented. She also says that 10,000 people applied to be beta testers for the app. Instead, 1500 invitations were sent out in the beginning of this year, and 500 accepted. The response, she claims, has been positive as people "have enjoyed spreading kindness and accolades while reading what people really think of them." Cordray adds, "We want our app to be a safe place to manage your own online reputation, while making better decisions about the people around you."
While Peeple is free, a premium paid version called "The Truth License" will be available in the near future. This will allow subscribers to read all the reviews written by other users, even if they aren't posted publicly.
Users of Peeple can be recommended, and in turn make recommendations in three categories: professional, personal, and dating. If you're not single, you can eliminate the latter section. The number of recommendations you receive is your 'Peeple number.' Now here is where this app gets interesting. You can share your positive recommendations through social media apps like Facebook, Twitter and Whatsapp, or disseminate it via email, and text. By doing this, you can manage your online reputation with Peeple, and check the reputation of the people you deal with for business or romance. You might find red flags on someone you are trusting a major financial project to, or find out that the guy you're seeing this weekend is a creep.
A Nearby feature allows you to discover which members are within 10 miles of your current location. You can also search for members based on name, location, interests and key words. And a chat feature allows you to talk to any member. Peeple uses a mandatory double-authentication process using your Facebook login and a PIN number sent to you in real time.
While there is a creepy connotation to Peeple, there is also some legitimate reason to find out what others think of someone that you might be investing money or time in. Before we judge the app, let's just see how it plays out. If a real reason for its existence pans out, the market will reveal this with a large number of installs. If this is just a way for people to hide behind their phone so they can act creepy, the app will quickly disappear from the App Store. This could actually turn out to be a quick and easy way to network in the industry you work in.
source: Peeple (
1
), (2) via
TNW