Consumer survey shows satisfaction rating for iPhone 3G and Storm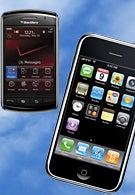 If this were a boxing match, the ref might have already stopped the fight. According to market research firm
ChangeWave
, Apple's second generation touch phone trounced the upstart BlackBerry device in customer satisfaction.
The stats? A month after the launch of the iPhone 3G last July, 77% of the phone's users were satisfied compared with a 33% reading for the Storm. And while owners of the latter showed that 14% were dissatisfied, only 5% of iPhone 3G users felt the same way.
Research director Paul Canton attributes some of the BlackBerry's "mid tier" reading to the glitches that have been seen on the device since it was released in the US on November 21st. Verizon and RIM have already sent out a firmware upgrade with another rumored to be on the way.
Are you a Storm or iPhone 3G user? Let's hear from you about how satisfied or dissatisfied you are with your phone. May the better device prevail!
source:
ComputerWorld