Concept app shows you how Apple Watch will allow you to grab your Starbucks every day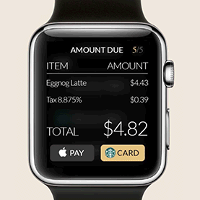 A concept app has been produced, showing how the
Apple Watch
will allow you to enjoy your steaming hot beverage from Starbucks, without breaking a sweat. Now, we know that the Apple Watch won't be made available until next year,
possibly in time for Valentine's Day
. And while Apple does obviously understand the technology that its intelligent timepiece needs to have, Cupertino still sees its smartwatch as a fashion accessory.
With the concept put together by UI designer Impekable, we can see how the consumer can customize his shot of caffeine, get notified when it is ready, and pay using Apple Pay or a Starbucks Card. While the concept looks cool, there are some reasons why it probably is not meant to be anything more than a pipe dream.
"Our concept was to re-envision how Apple Watch could enhance the Starbucks customer experience by providing an even better way to order rather than standing in a long line. Wouldn't it be cool if I could just go grab a table, order one of my usual drinks, pay for it using Apple Pay or my Starbucks card and get notified when my drink is ready – all from my phone without leaving the comfort of my seat?"-Pek Pongpaet, founder, Impekable
Ironically, Starbucks does not support Apple Pay, and has its own app for iOS and Android. The app for both platforms allows to pay for your drink by using your iPhone or Android powered handset. Also, as it turns out, the Apple Watch SDK is not yet ready to support a full-featured app like the concept being presented here.
So if you need your daily cup of Joe, and you want to speed along the process, right now your best bet is to stick with the Starbucks app. What this concept does, is show us what the future holds for the Apple Watch. More specifically, it reveals how native apps for the timepiece can make the device useful in its own way.
source:
CultofMac
via
RedmondPie