Conan mocks the story of the iPhone 5 stolen in a bar, Apple replies with a video
95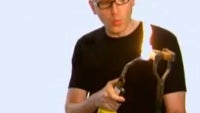 When you first heard about the
iPhone 4, lost in a bar
last year, you probably first thought the whole thing was a joke. It turned out it wasn't. No one knows, what Apple has done to tighten up security, but we could imagine. That's why when you heard that this year, the same story had reportedly happened again, this time with a prototype of the iPhone 5, you must have been confused.
How did Apple allow this?
Why didn't they do anything to prevent this? Later, it turned out it there was little evidence for a lost iPhone 5 this time, and the whole story sank in the pit of Apple rumors, but in the meantime Conan seems to have obtained a precious video - one detailing what Cupertino has done over the last year or so, or what will it do, to strike back in case it happens again. Be warned that some crude humor, which could make you cry follows below, so get a napkin and bravely play the video.