Compufon Android smartphone with tablet dock coming in late 2011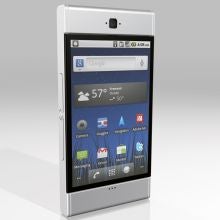 Concept devices are great. They allow companies and individuals to stretch their legs and think, "What if?," instead of "What's practical?". So what's even better than a
concept device
? When it becomes a reality, of course.
The Compufon, from Kosmaz Technologies, is just such a device. A mere concept as far as we knew, Kosmaz has announced that the Compufon Android device will be available as soon as Q4 2011. Pricing has yet to be determined.
The components of the Compufon are unspecified, but Kosmaz says that they will use "next generation CPU/GP's for mobile phones", so we assume that the processor will be a dual-core of some kind. They do say that the Compufon will run on Android 3.0 Honeycomb.
And Honeycomb will be necessary, as the
Compufon is a convergent smartphone, tablet, and laptop all in one
. The smartphone docks with a 10.6-inch tablet dock with stereo speakers, included Bluetooth headphones, and an auxiliary battery extending life by 10 hours. And the tablet weighs less than 1.5 pounds.
The included case contains a full Bluetooth keyboard. The tablet can then flip around within the case, giving you the laptop experience
. And this is why laptop OEMs are squirming. Because smartphones like this could easily replace most people's primary computers. Considering most people only use their home computers for email and browsing anyway, all-in-ones like the Compufon and the
Motorola Atrix 4G
are much more appealing solutions than three separate devices (smartphone, tablet, PC).
source:
Kosmaz
via
Android Community