Colossatron: Massive World Threat crash-lands on Android & iOS
1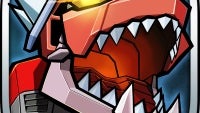 Halfbrick Studios' Colossatron: Massive World Threat is a game that lets you take control of a giant robotic snake from outer space and destroy things. We could stop here with the description, as the notion of a "giant robotic snake from outer space" is rather explanatory of the type of adventure Colossatron offers. It's the kind of game where the score counter is represented by a scale that measures the amount of damage you deal in monetary expenses. Colossal!
Still, there is more to this game than leading a humongous cybernetic reptile against humanity. You can actually build and shape Colossatron, the snake, with colored power cores to make it more capable against the Earth defence forces led by General Moustache. Tanks, boom trucks and aerial bombers will try to defeat the destruction-thirsty alien fiend in increasingly large numbers. Here's the official gameplay description:
"Colossatron is a rolling fortress comprised of multi-colored Powercores – these can be anything from unique weapons, powerups, shields and more. Red, blue and yellow Powercores drop in from space, and players attach them by simply dragging and dropping. The key to victory lies in understanding what the specific functions of each Powercore are, and the benefits of where they are placed.
For example, combining red and blue creates a purple Powercore. Matching three yellows together creates an even more powerful Supercore. Where should the shields be placed? Which power is active for green – proximity repair or plasma cannon? There are thousands of combinations, and each game will play out entirely differently. This is not tower defence – this is tower offence!
There are seven continents to destroy, each consisting of multiple missions, culminating in an all-out assault on the Capital. The fierce military leader General Moustache employs all manner of experimental technology to stop Colossatron, including tanks, dropships and even his own personal mech suit to throw down mano-a-mano. The dashing Action News 6 anchor Rick Dalton covers all the action from the studio, and field reporter Katie Hazard checks in with live updates from the battle zone."
With promises of an action-packed campaign, epic boss fights, devastating weaponry and more, Colossatron: Massive World Threat sounds like a fun way to put large-scale destruction under your fingertips. It should be out in the App Store and Google Play everywhere soon, and it's already up for iOS devices in New Zealand. The price is still unknown.