Code the Road: Google Maps turns 10, will you catch the bus?
6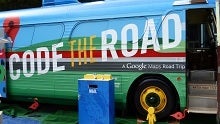 Google Maps is 10 years old this year. The near-ubiquitous product, from mobile to desktop, has evolved and grown into a feature packed tool used by millions every day. At Google I/O 2015, it was announced the Google Maps would finally begin supporting offline navigation later this year. Coupled with Google's other pervasive services and feature sets, Google Maps has been a go-to app for those looking for somewhere. Google Maps has also had its APIs open to developers for 10 years, and since this week was Google's annual developer conference, what better way to celebrate Google Maps than with a 1959 GM tour bus (powered by bio-diesel), and a several-thousand-mile road trip?
Code the Road is the name of the trip, and the Google Maps bus will be making stops along the way to Walt Disney World in Florida, departing San Francisco this afternoon. If you near one of the scheduled stops, you can check out the fancy digs and learn about what it means to code if you want.
The first scheduled stop is in Logan, Utah, at the iFit ICON Heath and Fitness 5K treadmill run. From there, the bus will also stop in Colorado, Wisconsin, Illinois, New York, Virginia, Georgia, and finally Florida.
The old GM bus is freshly painted and ready to go. You'll notice that there is nowhere to sit on the bus, the driver is going to be driving solo (with a motorcade entourage of Googlers coming along for the ride). Google is giving itself plenty of time (a month) to drive across the country, and with Google Maps, the crew is not likely to get lost. It will still be a long slow road though.
Check out Google Maps'
Code the Road
bus and activities.