Co-pilot on Jet Airways flight "busy on iPad" while pilot rests and the plane drops 5,000 feet
48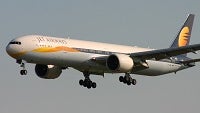 Based in India, Jet Airways operates several dozen aircraft on routes from the United States, to Europe, and across the Middle East and southern Asia. For the longer flights, Jet Airways has ten Boeing 777-300 extended range aircraft to ferry several hundred people at a time over distances as long as 7,900 miles.
Last week, on one such Jet Airways 777 en route from Brussels to Mumbai with 280 passengers on board, the co-pilot was supposed to be presiding over the flight controls while pilot and captain of the aircraft was taking a "controlled rest," which is allowed for longer flights.
The co-pilot was apparently too busy doing something on her iPad to notice the flight had descended 5,000 feet in crowded airspace over Turkey. Due to dangerous airspace over Ukraine and Iraq, commercial airlines have been rerouting flights and air traffic control has been more stringent for aircraft to follow assigned altitudes in order to avoid in-air collisions.
Air traffic controllers were finally able to alert the crew to the problem and they corrected the descent. The flight landed safely in Mumbai. The pilots, however, did not inform India's Director General of Civil Aviation or the airline of the incident, with the former only being notified via an anonymous text message.
Both pilots have been suspended pending an investigation, and while the co-pilot says she was working on her tablet, investigators are examining the possibility that she fell asleep as well. That, or she was having a heck of a run with Candy Crush.
Tablets have been playing an
increasing role for aircrews
. In lieu of carrying on heavy briefcases of air navigation charts, the tablets can
accomplish the same task
, and file the flight plans while using a fraction of the space and weight. As news of this incident makes its way through the aviation community, expect to see airlines heavily restricting tablet functionality.
sources:
New York Post
via
BetaBeat