'Clash of Clans' December 2016 update to bring Level 9 air defense, ship yard and other cool stuff
9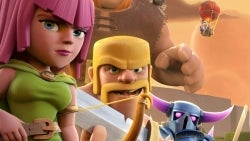 Digging through the game's data files, Redditor Chief Spencer who's been a reliable source of leaked information in the past has published his findings about the upcoming December update for Clash Of Clans. Mind you, this information isn't fully confirmed, but since it exists inside the game code and assets, chances of its emergence become quite likely.
Anyway, here's what COC players might be up for. First off, the Barbarian King statue will be introduced. It will cost 500 gems. A Red Barbarian King is coming as well, and when you buy a gem package, you will be given the Red Barbarian King as well as the Red Archer Queen.
The shipyard will be added as well, unlockable at Town Hall 4 at the cost of 50,000 gold. It will probably be included in daily chalenges, such as pirates raiding it and stealing your gems. There will be new air defenses added as well, although whether that's exactly what players need at the moment is up for debate.
The update should be released in December, in time for Christmas.
ALSO READ