Chuck Norris gets his own mobile game to celebrate his 77th birthday
6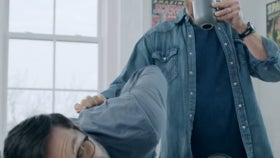 There are things that just appear one day, without any warning, and you start to wonder how they didn't arrive earlier, because they make so much sense. A Chuck Norris mobile game is exactly such a thing. Chuck is one of the biggest action stars out there, complete with a cult pop-culture following in the form of endless memes, jokes and "facts".
As you've probably guessed by now, Chuck Norris will be the main protagonist of a brand new mobile game. The title will arrive on iOS and Android in late April and it will be called "Nonstop Chuck Norris". In reality, you won't be controlling Chuck, though. You will only be assisting the the famed movie hero, as he runs and fights through levels of bad guys.
In case the game's title sounds familiar to you, it's probably because the team behind it, flaregames, released a game called "Nonstop Knight" last year that featured nearly the same mechanics. As Chuck runs around the levels, you will be tasked with unleashing special moves, collecting points, along with jokes and facts about the legendary action star.
As mentioned before, "Nonstop Chuck Norris" will hit app stores in late April, and it will be free-to-play with in-app purchases.
source:
flaregames
via
SlashGear