Chromecast is Android-based, already rooted
7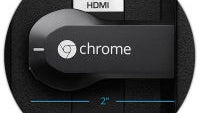 With a name like
Chromecast
, you would be right to assume that the new device from Google is based on Chrome rather than Android, but according to
GTV Hacker
, that isn't actually correct. Not only is the new Chromecast more Android than Chrome, it's already been rooted, just like most other Android devices on the market.
More accurately, the Chromecast is just what we said it was from a feature standpoint: it's an extremely
stripped down Google TV
. That means that it is basically Android with the Chromecast binary running. According to
GTV Hacker
, "the bootloader, kernel, init scripts, binaries, are all from the Google TV", but you won't be able to install APKs.
Of course, the direct result of learning that the device is more Android than Chrome is that the device can be rooted. The only trouble is that it is unclear how useful that root method will be. Chromecast is a very limited device from a hardware standpoint, but there is hope that it could become a full Google TV with a little bit of prodding. We'll let the dev community look into it, and we'll let you know if anything interesting comes from it.