Chrome for Android gets another update, adds requested features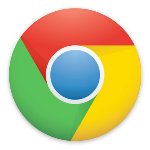 It was just over two months ago that Google launched
Chrome for Android
, and so far it appears they are making good on their
promise of frequent updates
. The Chrome blog announced another major update today, which includes widespread international availability. Chrome for Android has added support for 31 more languages, and the app is now available everywhere the Google Play Store can be reached.
The list of new features includes:
You can now request the desktop version of a website, in case you would rather not view the mobile version.
You can now add bookmarks as shortcuts on your home screen, so you can get to your favorite sites faster.
Choose your favorite apps to handle links opened in Chrome.
Have a proxy setup for Wi-Fi access? You can now use Chrome with the system proxy configured in Android settings.
Requesting the desktop version of a website was high on a lot of peoples' lists, and frankly we were surprised the app launched without this ability. Perhaps that's why it's technically a beta product. Regardless, prayers have been answered and now you can select "Request Desktop Site" from the options menu. It is also nice that Chrome now lets you choose what app you want to use to launch a link – it's one of the default behaviors in Android, and that flexibility is now available in Chrome.
While all of this mobile browsing goodness is now available world-wide, it's still only for Android 4.0 Ice Cream Sandwich users. It's going to stay that way – Chrome for Android makes use of ICS-specific APIs, but it's one more reason why carriers and OEMs need to work to get ICS updates to as many people as possible. If you are one of the lucky ones on Android 4.0, you can click on the market link below to download the latest version
source:
Chrome Blog
,
Play Store link