Chrome Beta for Android crushes competition on HTML5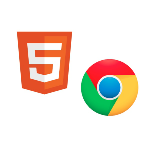 Chrome Beta for Android was just released earlier today, and we decided to put the new browser through some HTML5 tests, and the results were not just impressive for a mobile browser, they were impressive for any browser. We're sure that Sencha is working on some more
in-depth HTML5 tests
as we speak, but based on what we found in some informal testing, Chrome for Android is looking very good. This is probably for the best as Chrome Beta doesn't support Flash right now.
Next, we went to HTML5test.com and this is where the real power in Chrome was on display. An interesting note here, when the HTML5 test picked up the browser info, it said that we were using Chrome Beta 16.0.912.75 on a Samsung Galaxy Nexus running Android 4.0.2. The interesting thing is the version number for Chrome, which is actually the version number for the current stable release of the Chrome desktop browser, even though the Chrome Beta for Android is listed in the Android Market as version 0.16.4130.199. So, it looks like Google is aiming for the same parity between mobile and desktop that Mozilla has found with Firefox (at least in version number).
Digging into the point system, Chrome Beta stacked up well in most categories, but lost the most points in "User Interaction", WebGL, Microdata, Local Multimedia, Notifications, and Audio API segments of the test. Of course, even in these, Chrome Beta had the same bad scores as Chrome desktop for Microdata and Local Multimedia (meaning neither could access a webcam via HTML5.)
Of course, the testing is just one side of it. Simply using Chrome for Android for a few minutes and you'll see how smooth it is and how well it renders pages. Maybe the best thing for us is that Chrome Beta is the first mobile browser that allows us to properly use the PhoneArena Control Panel for creating/editing our posts. That's a pretty impressive feat.
It looks like Chrome Beta is setting a new standard for HTML5 performance on mobile devices, and we are certainly impressed. We'll be looking around for more tests to perform, so if you have any suggestions, just let us know. We'll be adding the SunSpider test results to this post in a little while, but if you know any other tests, we'll give them a try. *Update* We've run Chrome Beta through SunSpider a few times and it performed admirably, but not amazingly. Firefox 10 bested it every time, averaging a total time of about 1700ms, while Chrome Beta came in at around 1900ms and the stock ICS browser at 2100ms. So, Google still has some work to do there, but it's still better than the competition as iOS 5 tends to come in at around 2300ms and IE9 on Windows Phone Mango hasn't cracked 7000ms in any test we've seen (and lower is better).