China leads the world in Android and iOS activations
7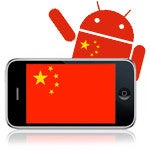 China had already passed the United States in the
number of mobile users
, and in the last quarter of 2011 they
shipped more smartphones
than the U.S. We noted at the time that the smartphone market in China looked very different, including low-cost smartphones that run on Symbian and Bada, while the U.S. market was dominated by Android and iOS devices.
By at least one metric,
it appears that China has now passed up the U.S. in premium smartphone sales
. Mobile analytics company Flurry created a measurement that adds activations for Android and iOS devices. According to Flurry's numbers, China passed up the U.S. in Android + iOS activations sometime last month. If you look at the chart below, you can see that China's current activation numbers wouldn't beat monthly U.S. activations over most of the last year – the U.S. saw its usual decrease in activation rates after the holidays, while China has continued steady growth in its activation rate. With the release of a desirable new Android handset of iPhone we would expect the U.S. to regain the lead again, at least temporarily.
And with China having more than four times the U.S. population, you can bet on the fact that any U.S. leads will ultimately be temporary. Sure, China has a long way to go in terms of spreading economic wealth to their less urban residents, but over time the trend is clear: as China's economy grows, they will eventually be the largest consumer in all aspects of the smartphone market. Which won't be the end of the world, but we can probably expect more
China-only
and
China-first
releases from the smartphone manufacturers of the world.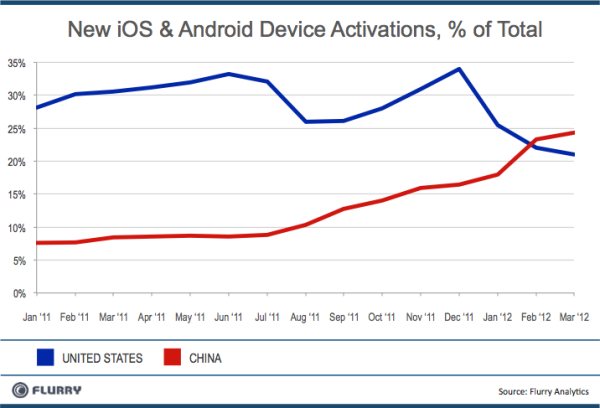 source:
Flurry
via
AllThingsD