China hits 1 billion mobile phone users
4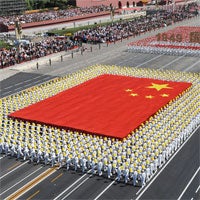 It's no secret that mobile phones are pretty much a staple for most people on the planet. It is fitting that the nation with the largest population has just become the first country to have over a billion mobile phone subscribers.
At the end of 2011, the population of mainland China was 1,347,350,000. At the end of February the official count of mobile phone subscribers was 1,006,923,000, which means almost 75% of people in China have a cell phone. China has seen growth of up to 10 million subscribers per month. It could very well find itself at 100% penetration relatively soon.
Of those billion though, only 144 million are 3G subscribers. Breaking it down by carrier, this is how it breaks down:
China Mobile: 661 million subscribers, 56 million of those on 3G
China Unicom: 206 million subscribers, 45 million of those on 3G
China Telecom: 132 million subscribers, 41 million of those on 3G
While it is definitely the largest phone market, China is also on pace to become the biggest smartphone market. While no one knows for sure how long we will continue to see this kind of growth, it doesn't seem like the plateau is in sight.
source:
UnwiredView