Chile bans selling of carrier locked phones, the world looks with envy
18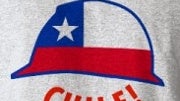 Chile
has banned the selling of carrier-locked handsets in the country, a brave move that puts the technology rather than the carrier at the forefront. All cell phones sold in the country
after January 16th
will be unlocked, while for phones purchased earlier a free unlock will be available through a website where you'd need to write down your IMEI and information about the device.
Chile is one of the few countries that have dared to challenge carriers' and make locked devices illegal. Singapore was among the first ones to outlaw locking a phone to a carrier's network and
Israel
has followed suit in 2010 with its own ban on carrier locking.
In the US and UK unlocked devices are not always available. For example, the iPhone 4S started selling unlocked only after it's been out on the market for a month or so. Currently, carrier locking is one of the main reasons why users in the developed world resort to hacks such as unlocking and jailbreaking their devices.