Check out this truly smart dock for the iPhone
8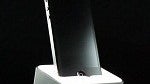 This is not your run of the mill charging dock. The Lumawake smark dock for "all iPhones" is a brilliant concept which not only makes it easy to charge your iPhone, but will tie into home automation so that it turns the lights off when you fall asleep and has coffee ready for you when you wake up.
Automation features aside, the Lumawake already has an edge if it can truly handle any iPhone whether it is in a protective case or not. That alone makes for a pretty solid dock. When you consider the automation and sleep monitoring that this smart dock can do, it looks like a winner in every way.
The Lumawake will also simulate a sunrise as part of the "smart wake" technology to aid in a natural awakening from your slumber. It also uses an infrared sensor to gauge when you fall asleep. The Lumawake will integrate with home automation systems, like SmartThings and WeMo from Belkin, enabling it to turn off lights or your TV and turn on your coffee maker and radio.
The app will allow all manner of customization of automation to changing the color of the Lumawake's dock and it can also be programmed how to handle phone calls and messages. One promising feature about all this automation, it can be directly controlled by you to accommodate sleeping partners, pets, or just turn all the whiz-bang features off and have a solid charging dock for your iPhone that will serve as a handy alarm clock.
Lumawake is crowdfunding this project through selfstarter. The company's goal is to get 1,000 orders in the next month. The company will ship internationally, and if you are a developer, the company will provide an open API so that you can develop apps for the Lumawake hardware. Early adopters can reserve one for $149. Lumawake will not charge your credit card unless the smart dock is ready to ship.
What do you think of this nifty bedside dock?
source:
Lumawake