Cheaper & more affordable Windows Phone 7 devices going to India?
This article contains unofficial information.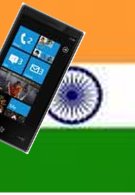 Just when things were looking to be a bit more
uniform
for Windows Phone 7, there is news that reveals Microsoft's intentions on making a special version of Windows Phone 7 aimed specifically for the low cost and emerging markets. Sudeep Bharati, director of developer tools for Microsoft India's Visual Studio Team, made the revelation about their possible plan which is looking to have lower requirements in the hardware – for things such as the screen size and memory which will be certified at around 128MB of RAM. In addition, there are also talks with OEM's in regards to the new chassis specifications and to gain some feedback from them. Now one of the specific aspects that Microsoft will be looking towards with this new version of Windows Phone 7 is the slight departure from the usual always-on data connections that'll prove to be trying in that specific market, instead, they'll have to rely on other methods to provide content for the user. As we've seen already Microsoft partnering with Verizon Wireless in the US with their
KIN phones
, we may as well see some of the items beings featured on those devices make its way to these Windows Phone 7 handsets possibly bound for India.
via
WMPoweruser