CheapShark is a Windows Phone and Android app that helps you look for cheap PC games
4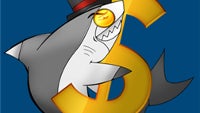 Getting games at a less-than-retail price point has always been sweet. Some have even turned deal hunting into a side hobby and refuse to buy a game unless they find it discounted, or at the very least – bundled with something else. CheapShark is a nifty service, which helps PC gamers strike such deals. To make it easier for users to keep tabs on sales, it has also launched its own app for Android, and recently – for Windows Phone.
The app allows you to search for a game through a number of websites and lists each one's pricing, letting you compare them directly. Alternatively, if you just want to browse deals and see if a random game will catch your eye, you can set a few filters, such as min/max price, whether the game is on sale, whether it is a SteamWorks title, and whether it is a triple A game, and have the app deliver a number of games matching the criteria. Even if you don't find a suitable deal now, the app can notify you via email when a select game is on sale. The WP edition will use its Live Tile to notify you for such occasions, which is kind of neat.
CheapShark can be downloaded for free from the Windows Phone and Google Play stores. Check it out and let us know if it helped you strike a bargain.
Download: (
Windows Phone
|
Android
)
via:
WMPoweruser