Chart shows Android users update software more than Apple users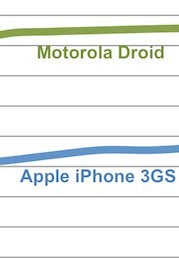 Google's Android OS and Apple's iOS are two of the premier platforms for mobile devices today. They are constantly being updated to make the experience better for the user. These updates however, are more likely to find their way to Android devices than iOS devices because of the OTA process.
Most iPhone, iPad and iPod users know that to update their software they need to plug it in to iTunes and let the computer do all the work. While this may not be the most difficult process, it is something that many people don't bother to do as the charts below will show. Being able to receive and install a new software update over-the-air is a simpler and easier process. For that reason, Android phones are more likely to be updated than any iOS device.
The chart compares two past generation phones of current popular devices, the Apple iPhone 3GS and the Motorola Droid. The software updates being compared are Android 2.2 and iOS 4.0. The difference in upgrade rate is staggering. After only two weeks of availability, 96% of Motorola Droid users had been updated to Android 2.2 Froyo. Only 56% of iPhone 3GS users had upgraded to iOS 4.0 in the first two weeks.
Are OTA updates the way to go? Tell us what you think in the comments below.
source:
Apple Insider